They say April showers bring May flowers, so I have made this month's edition of That's Sew Cool all about floral sewing things. That's Sew Cool is a monthly series where I share cool sewing things I see with you… and I love a fun theme!
Anybody who sews or make crafts knows the importance of storage and organization. These boxes are so pretty that you could use them as decoration and storage at the same time. I imagine them holding spools of thread, zippers, elastics, special fabric scraps, pattern envelopes, etc. To my husband: here is a birthday wish list item. *wink*
Fine pins for thin fabrics that lay flat, yes please! If you ever work with thin silk fabric you know how precious and delicate it is. Thin, sharp pins and needles are a must. These are going on my personal "save for later" list for my next silk project. The raving reviews clearly show that the price is totally worth it (~$10 for 20 pins).
I found this book as I was browsing the craft section of a used bookstore. The beauty of the book won me over. I think every page of this book is interesting to look at. The painted step-by-step instructions are detailed and pretty. I would even say you can leave this on your coffee table.
The projects are simple and beginner friendly. To be honest, many of them I could recreate without a pattern or instructions, but I could give this to my daughter and she would follow all the instructions. I bought it for appreciation more than practicality, but someone new to sewing would enjoy working through the projects.
How cute is this rotary cutter? If you have never used a rotary cutter before, let me tell you, it is a time saver. I'll never, ever toss my scissors out the window, but I don't solely rely on them. I use my rotary cutter for cutting out precise quilt pieces and for cutting out my fabric pieces for garments. I can cut a pattern piece twice as fast, literally. (sold out at Amazon, but available here)
These buttons are from one of my favorite Etsy shops, Mary Not Martha. They have the most amazing selection of luxurious buttons, laces, trims, ribbons and more. It is worth taking 10 minutes just to look through everything they offer.

These buttons are mother of pearl. I can imagine pairing them with so many different colored fabrics because of the iridescent shine. I have a pink floral fabric on the way and these may be the buttons I choose for the dress.
Another Etsy shop that I have recently ordered from is MarySupplies. I bought some floral stretch elastic for sewing some lingerie items. I have already made bottoms with the picot elastic and given my 5-star review to her shop. Go check out this wonderful USA-based small business.
Have you ever had a piece of fabric where it is hard to tell the front from the back? And worse, sewn the piece wrong side out? One way to keep track of the right and wrong side of fabric is to mark the right side with a sticker. A little roll of washi tape makes for a perfect stickers, because it isn't too sticky.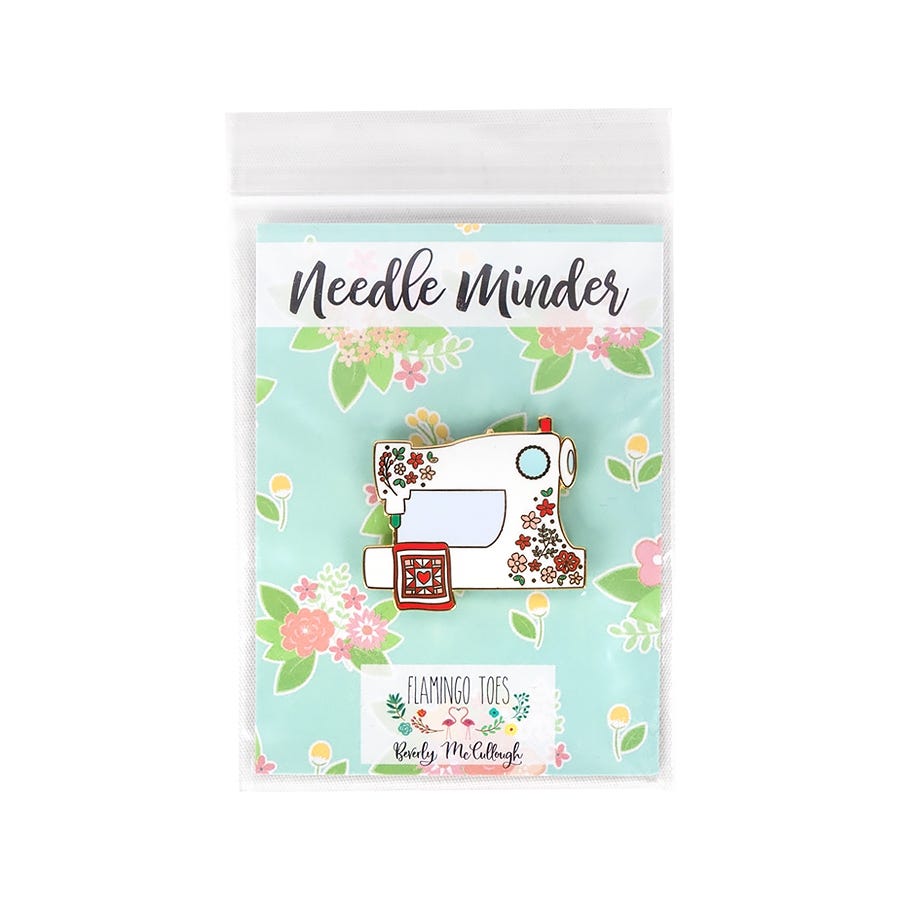 This is my most recent "discovery": a needle minder. Hmm, what is a needle minder? It attaches to your project (think embroidery) and when you pause you set your needle on your needle minder, which is MAGNETIC, and it holds it for you. You don't have to stick the needle into the fabric anymore. No more lost needles to search for in between your couch cushions… please tell me I am not the only one. For the record, I have found all temporarily lost needles. Haha!
Until the next That's Sew Cool, go get creative and make something you love.